Get double the apple goodness with this recipe that will be your go-to this fall. If you're craving some comforting baked goods that still pack a healthy punch, this recipe is for you! Don't worry, we won't tell your friends and family how healthy they are.
Apple Oatmeal Muffins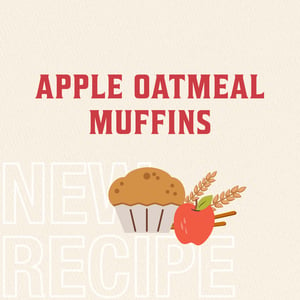 Ingredients:
½ cup nonfat milk
⅓ cup applesauce
½ cup all-purpose flour
½ cup quick-cooking oats (uncooked)
1 cup sugar
½ Tbsp. baking powder
½ tsp. ground cinnamon
1 tart apple (cored and chopped)
Directions:
Preheat oven to 400 F.
Place six cupcake holders in a baking tin.
Add the milk and applesauce to a mixing bowl. Stir until blended.
Stir in the flour, oats, sugar, baking powder and cinnamon, and mix until moistened.
Gently stir in the chopped apples.
Spoon the batter into the tin.
Bake for 15-20 minutes.
Cool muffins in the pan for 5 minutes before serving.
Nutritional Information
(per serving)
Total calories 125
Total fat 1 g
Protein 3 g
Sodium 133 mg
Carbohydrate 28 g
Dietary fiber 2 g
Saturated fat 0 g
Total sugars 14 g
Source: MyPlate
Try out this recipe and let us know what you think! If you end up making this recipe, post a photo online or send us a picture of how it turned out to inspire others!