What's for dinner? How about a casserole dish packed with veggies, protein, and whole grains? Plus it's delicious! If your cooking for your family or need a dish for a dinner party, this casserole is sure to please.
What you need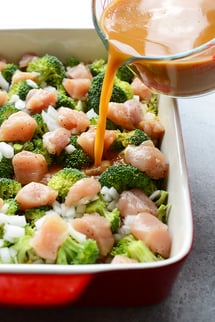 For casserole:
15 oz. chicken breast (2 large)
1.5 cups organic brown rice
1/2 yellow onion, diced
4 cups broccoli, chunked
For sauce:
1.5 cups orange juice
2 cups chicken broth
1/4 cup tamari (or soy sauce)
1/4 cup honey
2 tablesppons rice vinegar
1 tablespoon minced garlic
1 teaspoon freshly ground ginger
2 tablesppon sriracha
1 teaspoon orange zest
What to do:
Preheat oven to 375° and spray casserole dish with cooking spray
Sprinkle diced yellow onion and chopped broccoli in casserole dish
Cut chicken breast into small pieces and place on top of veggies
Add brown rice to casserole dish and set aside
In a medium bowl, mix all ingredients for sauce
Pour sauce into casserole dish and mix all ingredients together
Cover with tin foil and bake for 30 minutes
Remove and stir, place back in for 30 minutes
Take out and let sit for 10 minutes before serving
If you plan to freeze, cook in a disposable casserole dish. Once casserole dish is cooled, cover in plastic wrap and press out all the air. Then cover again in tin foil before placing in the freezer. Enjoy!