Nothing beats coming home to a healthy, delicious meal. Especially during the busiest time of year, so skip the expensive take out and make chicken chili tonight!
Ingredients: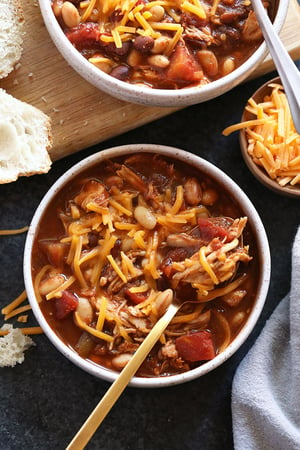 2 large chicken breasts
12 oz salsa
15 oz black beans
15 oz white beans
15 oz diced tomatoes
4 oz green chiles
1 tablespoon minced garlic
3 tablespoons chili powder
1 teaspoon paprika
2 teaspoons apple cider vinegar
1 cup chicken broth
Instructions:
1. Place all ingredients except the chicken breast into your slow cooker. Mix until combined, then place chicken on top and cover.
2. Cook on high for 3-4 hours or on low for 6-8 hours. Stir periodically.
3. Remove chicken from slow cooker and shred using two forks. Place shredded chicken back into slow cooker and mix to combined.
4. Serve and top with shredded cheese, greek yogurt and avocado. Enjoy!
Like this recipe? Get more healthy comfort food ideas here.
source: https://fitfoodiefinds.com/