This tomato and cucumber salad is light and refreshing! Makes the perfect side dish for a casual dinner, family gathering or the next office potluck party. It's simple to make and packs a punch of fresh flavor. We hope you enjoy it!
Tomato and Cucumber Salad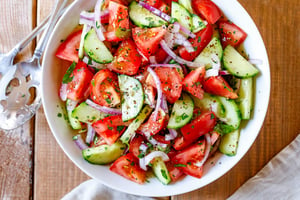 Salad Ingredients:
4 large tomatoes (cubed)
1 large cucumber (chopped)
1 cup red onion (chopped)
1 cup green pepper (chopped)
1/3 cup parsley (chopped)
Dressing
1/3 cup apple cider vinegar
1 tbsp. olive oil
2 cloves garlic (minced)
1/2 tsp. salt
1/2 tsp. ground black pepper
1/2 tsp. sugar
Directions:
In a large bowl, combine the salad ingredients
In a small bowl, mix the dressing ingredients.
Pour the dressing over the salad. Mix well.
Refrigerate for at least one hour before serving.
Try out this recipe and let us know what you think!