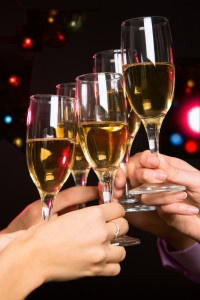 The holiday season is a great time to get together with family and friends. For most, this usually involves parties, good food, and some alcohol consumption. While you want your guests to have a good time, it's also important to make sure they are being safe and responsible. The Centers for Disease Control and Prevention (CDC) reports that 728 people will be injured or killed each day in drunk driving accidents between Thanksgiving and New Year's— two to three times higher than the rest of the year.
If you're hosting a party, be sure you don't overlook these important tips to prevent drinking and driving:
Have a designated driver. It's one of the simplest rules to follow, but also one of the most effective in keeping people safe on the roads.
Keep cab numbers on hand. If someone should not be driving and they insist on going home, call a cab for them instead of allowing them to take the risk of driving home.
Offer a variety of non-alcoholic drinks. Provide fun "mocktails" and other non-alcoholic drinks for designated drivers or those who don't wish to consume alcohol.
Provide plenty of food. Drinking on an empty stomach can cause a person to become intoxicated faster. Offering food may help guests drink in moderation and slow down the effects of alcohol.
Plan fun activities! Keep your guests busy with games that focus on fun conversation.
Stop serving alcohol altogether about 90 minutes before the party ends. Only time sobers an individual who has been drinking. Offer coffee, tea, and a snack to let guests wind down before heading home.
Sources: http://www.cdc.gov/features/roadsafety/ and http://www.huffintonpost.com/substancecom/tips-for-drinking-safely-_b_6295968.html