Set yourself up for success with a fridge full of delicious meals to get you excited about healthy eating. We picked a few of HealthCheck360's go-to meal prep dishes to share with you!
Meal prepping isn't just about lunch! These breakfast ideas can be made the night before and help you start your day on the right foot.
Chia Seed Pudding - this creamy breakfast dish only has two ingredients but can be loaded with your favorite superfoods. Combine 1 cup of milk or favorite milk substitute with 1/4 cup of chia seeds. Cover and refrigerate overnight. Add granola, fruit, nuts, or almond butter for a sweet topping.
Overnight Oats - another dish that is simple but can be customized. Mix 1 cup of oats and 1 cup of milk, water, or Greek yogurt. Let sit overnight and in the morning top with fresh fruit (blueberries are our fav!), peanut butter, or honey. Heat up the oats or enjoy cold the next day.
Incorporate a few of our favorite lunch dishes to keep you excited about your lunch from home.
Classic Chicken and Veggies - there's a reason this is one of HealthCheck360's favorite meals to prepare. It's quick to make, stays fresh for the whole week and has nutritious veggies and protein. Use your favorite foods or use a vegetable you've never tried before.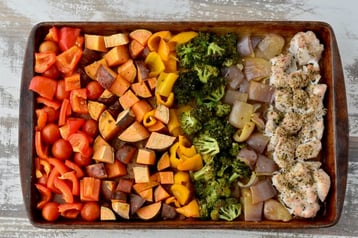 Turkey Meatballs and Spaghetti - a twist on the hearty classic, turkey meatballs are easy to make and stay fresh all week long. These meatballs are so filling you won't be reaching for the garlic bread!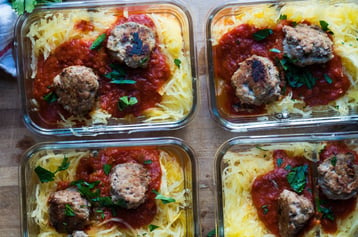 Skinny Orange Chicken - this dish is the perfect mix of tangy and satisfying. This dish will have your coworkers asking where you got the take-out from.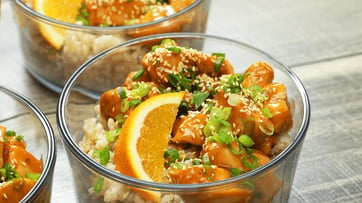 There are a ton of nutritious recipes our health coaches love to share. Give them a call! Remember, it can be difficult to stick to a meal prep plan but making smart choices leads to big impact and using the myHealthCheck360 app can help you make smart decisions in every aspect of your day.