It's common to fill up on sugary treats and filling meals during the holidays, which means it's the perfect time to practice: balance. By balancing out the not so healthy meals with nutritious food, we can enjoy the holiday treats without compromising our health and waistline.
This Tomato Kale and Quinoa Soup is the perfect healthy, light meal to up your nutrition game.
Ingredients: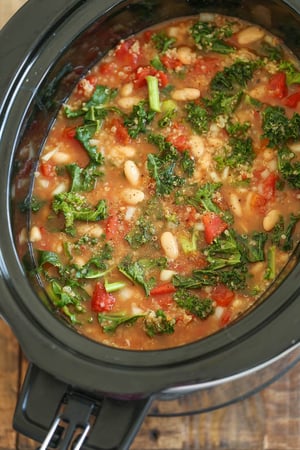 1 cup uncooked quinoa, rinsed
2 (14 oz) cans diced tomatoes
1 (15 oz) can great northern beans, drained and rinsed
1 onion, diced
3 cloves minced garlic
1/2 teaspoons dried oregano
1/2 teaspoons dried basil
1/4 teaspoons dried rosemary
1/4 teaspoon dried thyme
2 bay leaves
4 cups vegetable broth
Kosher salt and black pepper to taste
1 bunch kale, chopped and stems removed
Instructions:
1. Place quinoa, tomatoes, beans, onion, garlic, oregano, basil, rosemary, thyme and bay leaves into a 6-quart slow cooker. Stir in vegetable broth and 2 cups water until combined. Season with salt and pepper.
2. Cover and cook on low for 7-8 hours or high for 3-4 hours. Stir in kale until wilted.
3. Serve and enjoy!
Cooking for a crowd this holiday season? Check out this blog post for more healthy meal ideas.
source: https://damndelicious.net/